Brazil's solar potential knows few rivals in the world
Solar power generation in Brazil is still in its infancy, with total installed capacity levels currently at only 20 MW. This number is bound to grow fast, however, given the high quality of solar resources, very expensive rates paid by retail consumers and a number of pockets of non-met energy demand in Brazil. The scenario becomes even more favorable considering the decreases in the costs of PV power generation brought in by cheaper, more efficient technologies.
The Brazilian Northeast holds the country's best potential for solar power generation, a wealth so far largely unexplored with very attractive business opportunities for current and future investments.
Brazilian average global solar radiation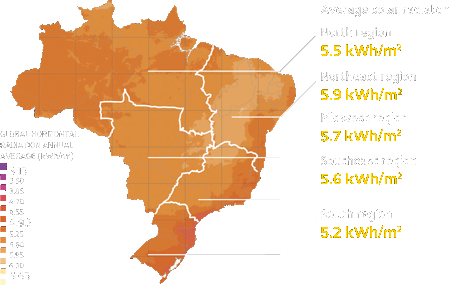 SOURCE: Atlas Brasileiro de Energia Solar (Brazilian Atlas of Solar Power, 2001)
Recent studies show that photovoltaic installations are already price-competitive for captive customers connected to low voltage (residential) grids for a large number of utilities.
The results are compliant with ANEEL's "Nota Técnica 025" (White Paper 025) about distributed power generation.
Competitiveness in solar investments in Brazil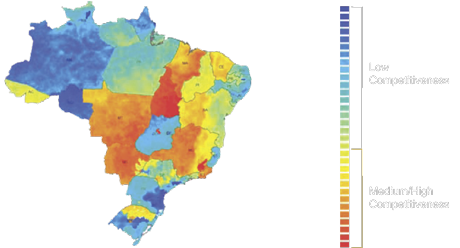 SOURCE: Photovoltaic systems sectorial group ABINEE / LCA / PSR – June, 2012
The Northeast region stands out for its high solar potential. Due to that and to a set of other favorable conditions, it has been chosen as the location for Solyes' photovoltaic complex in Bom Jesus da Lapa, in the state of Bahia.