A new era is emerging.
Despite presenting strong growth over the past few years, solar power has yet to become a relevant part of the power generation grid in most countries.
Photovoltaic is the fastest-growing power generation technology in the world. 30GW of installed capacity were added in 2011 alone, raising the total installed capacity in the planet to 70 GW.
Added capacity increased 75% compared to 2010, an average annual growth rate of 46,78% between 2006 and 2011.
The main reasons for such fast expansion are the decreasing production costs, incentive policies and the great interest solar power generates in investors.
Europe has the largest installed solar power generation base, holding 74% of the world's accumulated installed capacity. For the first time in history, Europe deployed more photovoltaic facilities than wind projects in 2010, with Germany and Italy leading the race.
Compared to other regions with major solar potential, Latin America presents relatively low activity in photovoltaic power generation. Even so, Latin America's biggest industrial powerhouses – Brazil and Mexico – have already engaged in promoting solar power as a relevant actor for their power grids.
Cumulated global installed photovoltaic power capacity (1996-2011)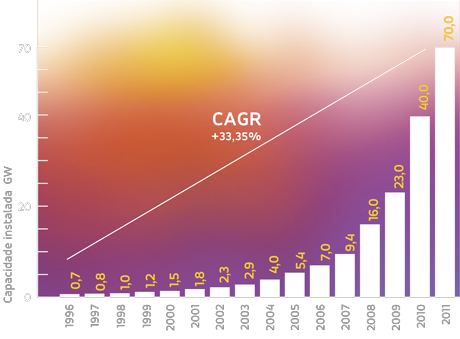 Source: REN21 Renewables 2012 Global Status Report
Top 10 countries in accumulated photovoltaic installed capacity (2011)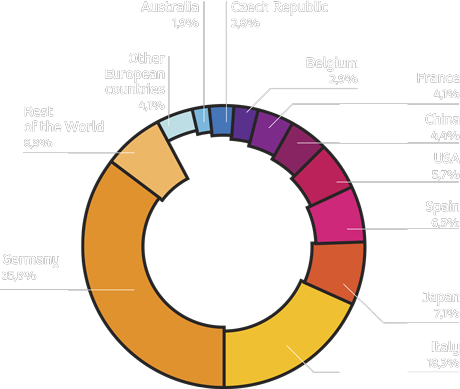 Source: REN21 Renewables 2012 Global Status Report